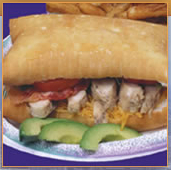 In the eighties, the suburbs of Salt Lake City didn't have much of a culinary selection after midnight. If you didn't want to sit in a greasy spoon, you were relegated to Sconecutter. My, this story needs a lot of explaining. Scones in Utah are nothing like scones in Great Britain. In fact, I think a place like Sconecutter would do well anywhere if the rest of the world would just redefine the word scone. In Utah, a scone is fried bread. Think of it as a hush puppy without the cornmeal.
Sconecutter serves savory and sweet scones. The scone itself is a rectangle approximately four inches by six inches by two inches, cut in half lengthwise (thus the name, Sconecutter). They will make them into sandwiches for you or slather them with honey butter. As if the scones weren't abominations themselves, they also serve Scone Burgers, which are pretty self-explanatory, and Sconuts, which are scones that are frosted like donuts. Most abhorrent of all their greasy creations is the Scone Dog. I've never eaten, ordered or even seen a Scone Dog, but I suspect they are scones with hot dogs as the meat. So much for explanation.
Grown-ups never understand anything for themselves, and it is tiresome for children to be always and forever explaining things to them. Antoine de Saint-Exupery (1900 – 1944), "The Little Prince", 1943
So, it's 1987 and I'm with the core group of partiers: Calvin, my cheerleader friend, her drill team friend, her football player boyfriend and me, nerd-girl. They're drunk. Calvin's high and I'm driving. It's about 11:30 pm and we are at Sconecutter. Most importantly, they are all underage and if the guy behind the counter realizes they're drunk, we're all busted. The important thing is to be cool. "Be cool," the football player tells me. Even though he's drunk, you can't tell because he is always cool.
I order and pay for myself. Little Miss Drill Team orders, Football Player orders and my friend orders and pays for all of them. It's Calvin's turn to order, "Scone Dog!" He pronounces it slowly and incredulously. He sounds like Sean Penn from Fast Times at Ridgemont High. Worse still, he keeps saying it. "Scone Dog!" Now, he's pointing at the menu at the item, "Look, Dude, Scone Dog! I want a Scone Dog!" Football Player lowers Calvin's pointing hand and takes him by the shoulder, whispering, "Cool it. Dude, you don't want a Scone Dog. Man, just order whatever you want, but C-O-O-L I-T." He draws out the last two words in a ferocious whisper.
Nothing gives one person so much advantage over another as to remain always cool and unruffled under all circumstances. Thomas Jefferson (1743 – 1826)
The girls are worthless and they are laughing each time Calvin says the word again. I step up to the counter, "My friend doesn't want a Scone Dog." The guy at the counter is instantly on my side, "No, I wouldn't recommend it to anyone." I flirt just enough to get the attention away from Calvin and Football Player arguing about whether a Scone Dog is palatable or not. "So, what do you think he should order?" The two of us can still hear Calvin in the background repeating the words "Scone Dog" over and over. The guy at the counter appropriates Calvin's voice and accent, and saying, "How about a Sconenut?" He drew out the word "Sconenut" in the same way Calvin kept repeating "Scone Dog." I laughed and nodded. "Maple or chocolate?" I order both.

This story was told many times by Miss Drill Team and my friend. Whenever we remember Calvin together, the Scone Dog story is brought up. I never heard Calvin say that he wanted to get high after that. He just wanted to get a "Scone Dog. "
Not long after that, Sconecutter started an advertising campaign with the tag line: Let's Go Get Sconed! I don't think that Calvin initiated that, but it was brilliant and they still use that slogan today. Additionally, I noticed that Scone Dog is no longer on their menu. What a shame. Now I'll never know.