I was looking at Tumblr and Feel Good Inc. posted a bunch of these animated gifs from an episode of Roseanne from 1989.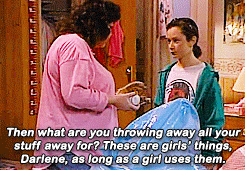 It's from this episode:
Fast forward to the 17:19 mark to see the conversation. I am so grateful to Roseanne Barr for this episode.
I'm approaching menopause. Every once and a while, I get the night sweats and have hot flashes for seemingly no reason. I have had a lovely life with my monthly menstruation. Truly magical, just like Roseanne told me I would.
"Now you get to be part of the whole cycle of things. You know, the moon and the water and the seasons. It's almost magical… You should be really proud today, 'cause this is the beginning of a lot of really wonderful things in your life."
Even though I was already an adult when I saw this episode, it helped me. It helped me love being a woman in a way that I have enjoyed every month. I recently talked to my mom about menopause and she said that she was happy to have it come because then she didn't have a monthly curse. I told her that I never thought of it as a curse. It made me feel connected to the earth and the cycle of life on this planet. She said, "You never got that from me."
I realized she was right. I didn't get that from my mother. I got it from Roseanne Barr. Thank you! Thank you for that episode so many years ago that touched me so profoundly. Now that I have moved to the phase beyond this one, I will learn to accept it with just as much grace and gratitude as my mother did.