Years later, Mike and I were at Lagoon and I tried to reminisce with him, "Remember that hall of mirrors thing that they used to have here where the Jet Star II is now?" He looked at me with a blank face. I tried to jog his memory. "You know, the summer before they put up the Jet Star II, they had a huge slide thing that you had to climb and climb and climb. You would carry these rug things and once I got stuck at a spot. A kid said that I got stuck because I was fat."
Mike's eyes opened, "I remember the big slide. You had to carry your carpet up with you." I was onto something I knew I would be able to get him to remember it, "Well, the year before they put up the huge slide thing, they had a hall of mirrors thing. It had a big monkey out front and there was a skeleton playing piano. I thought it was going to be a haunted house like the Terroride, but it wasn't. It was kind of like the Fun House, but not so fun." He looked at me like I was insane. "No, the big slide was always there until they put up the Jet Star II."
No matter how well I described the ride, Mike couldn't remember it. I began to think that I had imagined it and the story that vilified my dad in my mind. I asked my mom about it, "I remember a hall of mirrors thing at Lagoon, but Mike doesn't remember it. Do you?" I knew that she had been there. She thought that I had been too young for the ride, when in reality, it was my dad who was too immature. She drew a blank. I tried to prompt her memory with the location of the ride and the fact that it was replaced by a huge slide, which was replaced by the Jet Star II. None of it helped, "You just remember more than I do about some things."
All of this fermented in my mind for a few years. Mike didn't remember it. Mom didn't remember it. I sure as hell wasn't going to ask my dad about it. I just let it lie dormant and hoped that I would find someone who remembered this ride.
---
We were going through Mom's old photographs, dividing them among Stacey, my mom and me. "Oh my God, Mom! Look at this!" I held up the picture for her to see. It was a picture of Mom in front of the hall of mirrors at Lagoon. It wasn't a professional picture. It wasn't a beautiful picture, but it was proof. "What is it?" I was truly surprised that she didn't recognize it, "Mom! It's that hall of mirrors thing that they used to have at Lagoon where the Jet Star II is now."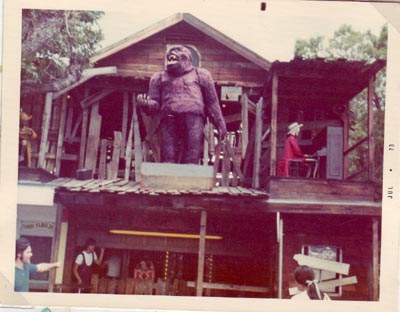 There it all was. It was blurry, but the big monkey was there. You couldn't see that his eyes were red, but they burned brightly in my imagination. The clapping monkey was actually a cymbal playing monkey toy. It was the kind that were popular in the seventies before Monkey Shines came out. You can't see it in the picture, but it was behind the guy who took the tickets.
The skeleton band was behind huge monkey. I didn't remember the rest of the band; I had only remembered the skeleton playing the piano. His bony fingers weren't even touching the keys. I didn't understand how the music worked if his fingers didn't even touch the keys. There was a whole skeleton band that I had forgotten, leaving only a piano player in my memory.
I felt comfort in having proof. In my hand was proof that I hadn't made it up in my mind. My mom looked at the picture, "You just remember more than I do about some things."