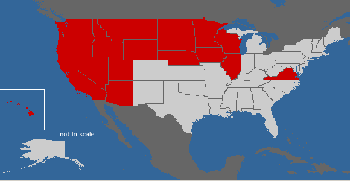 Hi,
I am struggling to work out how to phrase my comments without causing offence (non US spelling should be a giveaway!), but I'll preface my note with a remark that I stumbled upon your weblog after using your collective Quotations.com page…this is very good work and will be a useful, entertaining and informative resource for those occasoins when I'm looking for a catchy tag-line on slide one of a presentation.
The item on your web log that caught my attention, even though it should not have, was your map of the states that you have visited…and its allusion to your having never actually left America: it begs the question: why are Americans such poor travellers (6 out of 7 don't even have a passport), so apparently reluctant to acquire a bit worldly wisdom that goes with exploration? Setting aside the fact that I've visited aobut 50 coutries in my life and lived in two, I think I've even seen more of the US than you (although I've never been to Utah!)!
I have often heard americans say that they don't leave the "States" because everything they need is there, but that assertion fundamentally misses the point of travel: to see, to learn and to understand that whereas the rest of the world might be different that difference is worth celebrating.
Anyway, rant over, enjoyed reading but a kneejerk response made me write.
Rory.
---
Dear Rory,
That map was a United States Map. There is another one for the world, but when I filled out the countries that I had visited, it was woefully gray.
The whole point of my entry was the fact that I am so untravelled, yet I still go to Las Vegas over and over. I was actually making fun of my lack of travel within my own country, much less the entire world.
Thank you for responding. Considering that Emily Dickinson spent most of her life in three rooms, I don't believe being well-traveled is a prerequisite for a life well-lived. I've seen many people who believe they are well-traveled when all they did was step off the boat into various cities along the cruise.
Foreign travel is a difficult conundrum for me because the cost is so exorbitant and I believe that I must spend months in a foreign land to enjoy the fullness of it. Additionally, I fear travel outside my country because I am so ashamed of what my government is doing to other parts of the world. It's so much easier to jump in the VW Beetle and drive away.
I believe the Internet has done wonders for us hermits. It allows me to explore other lands, concepts and even converse with strangers across the ocean. I realize it is a two-dimensional exploration, but it is better than three rooms. If only Emily could have had a glowing computer screen to keep her company.
Thanks again for responding, Laura Moncur