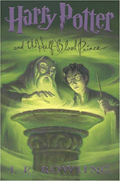 I am laughing my head off! Despite the security on the new Harry Potter book, there has been a leak. This story tells you the gory details.
I'm laughing because of how they were found out:
"Suspicions of a leak were first raised back in May when officials from an Internet gambling ring noticed an odd betting pattern coming from a small town in England—a town in which, it appears, Harry Potter and the Half-Blood Prince was being printed. Blue Square, a gambling outfit, was running a bet on the character most likely to die in the sixth installment, and noticed a disproportionate number of wagers from Bungay, in Suffolk, all on the same character."
I won't tell you who they betted for, but if you don't want the story spoiled, be careful reading the article.
On a more serious note, just think how much more money they would make if they shipped the books as soon as they were printed and allowed the stores to put them out as soon as they were printed. They could even charge more for the "first batch" if they wanted. I'm sure there are tons of fans out there willing to shell out extra bucks for a chance to read it as soon as possible.
Hey, while we're dreaming big, just think how great it would be if J. K. Rowling just posted the chapters on her weblog as soon as she was finished writing them.