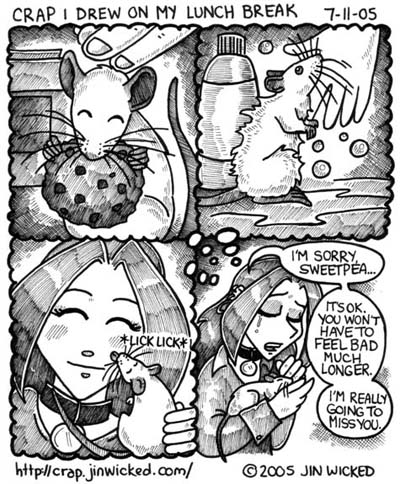 Jin Wicked writes a webcomic called Crap I Drew on my Lunchbreak. It has been on my comics list since I started this website. This past week, Jin's pet rat, Yuki, died.
Mike and I owned pet rats when I worked at UBTL. Perdita had been part of a teratological study, but had been kicked out when they found enough pregnant rats. That would have meant that she would have been a practice animal, but she was pregnant, so she was scheduled for euthanasia unless someone was willing to take her home. I did. She had 17 baby rats. We found homes for most of them. Cory and Kathleen took two of her sons and other friends adopted. We sold the rest to a pet store. We kept Perdita and two of her daughters, Gretchen and Elsie.
Laboratory rats have a life expectancy of two years. They are bred to live exactly two years. Perdita was a really young mother, so we lost all of our rats within the span of six months. It was so hard to lose each of them. Their personalities were so different. They were also bred for intelligence. For an animal with a brain the size of an almond, they were so smart and funny. Each death was like the loss of a beloved pet.
People are so stupid.
"You spent $40 on a vet bill for a RAT?"

"What's the problem? Just buy another one for two bucks."

"Yeah, she's sad because her RAT died? giggle"
When we lost Gretchen, I didn't even tell anyone. Hearing Jin talk about her loss healed me a little bit…