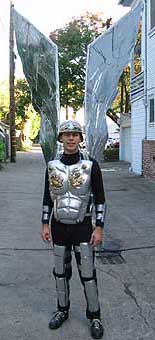 Every time I think that I'm over-doing it for Halloween, I realize that there are others out there who are far more obsessed than I am. Check out this website:
Cockeyed Presents: Incredible Costumes
My favorite quote:
"Normal people don't buy stuff for their costume at Home Depot."
My favorite costumes are the huge metallic wings (shown here) and the state of California costume. He also was a walking Jenga game and won a $10K prize for his Paparazzi Costume.
Every year, I am something bizarre for Halloween that involves lots of explaining. This year, I have vowed to be something easy that requires no explanation. I guess I'll see how well I do this year.