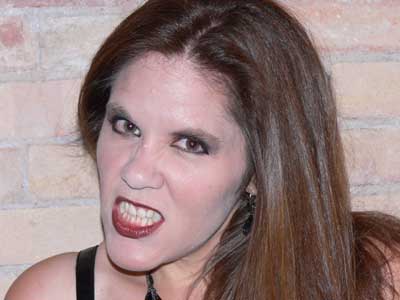 My inner lower lip is raw and tender from being bitten accidentally all night by the vampire fangs. I don't know how those Goth kids do it every weekend. Do they learn to talk with those fangs in their mouths? My S's and Th's were slurred all night and I didn't drink a drop… of alcohol, that is…
The Halloween Party this year was a blast! Every year I'm blown away by the meticulous care that everyone puts into their costumes and potluck dishes. For some reason, the test tube shots looked more spectacular this year than all the years before. I think it was the Midori, Aftershock and Blue Curaco that really made them look experimental.
I always have anxiety that no one will come to my party. This year, 7pm rolled around and no one had arrived. I told myself that everyone likes to be fashionably late. At 7:20 pm, my mom showed up. I kept telling myself that if it was just my mom, Reed, Stacey, Dan, Mike and me, that it would be a fun party, but I was scared.
This year, my saviors were Chip and Julieanne. They showed up at 7:35 pm and suddenly, I had a party. I was so grateful when they arrived. Late may be fashionable, but on time is a blessing. The first arrival to my party is held dear to my heart always.
Halloween Music Mix 2005: