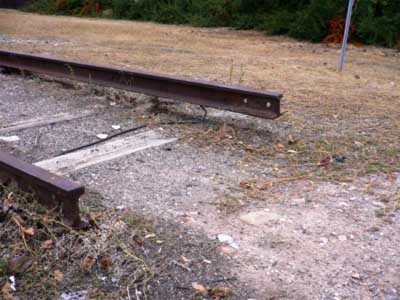 They stick out of the ground like the bones of a long-dead animal. The trains used to run east to west in Salt Lake City. The tracks have been uprouted and paved over on the major roads, but we bounce over the unused skeleton on the minor roads. In the abandoned sections of the city, the track springs up from the ground.
I wonder about this track. Is this where the trolleys used to run? The only evidence that we used to have trolleys in this city is Trolley Square, the local "historic" shopping mall. There are a few obligatory pictures of the day when the trolleys were housed in the building instead of novelty shops and trendy art galleries. I know our town used to have trolleys, but the only proof I have are some black and white pictures on the wall of an old building.
What used to run on this track? Never once in my memory was there a train. It wasn't until about five years ago that they even paved over the track. The buses used to stop at them, open their doors and wait as if it were an active line. I never saw the crossing bars go down, though.
Now, the track is rusted and protruding from the ground like something that was supposed to stay buried, but insists on announcing the crime that was performed on it. It's a shame considering how much money was spent building the East-West line of Traxx right before the Olympics.