In honor of the holiday, I brought out my photo album and scanned in the photos of my first Christmas that I remember. My dad had been really into the whole Jehovah Witness thing when I was a kid. We technically weren't supposed to celebrate any holidays after the divorce, but my mom missed Christmas, so she said she was going to celebrate it no matter what. We didn't need to participate if we didn't want, but she was going to have a tree. She said she would get us presents if we wanted and that year, both Stacey and I really wanted.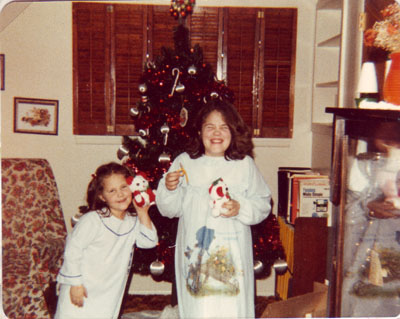 Here is a picture of Stacey and I in front of the Christmas Tree. Stacey is on the left looking like a commercial for Christmas itself and I'm on the right. I hadn't learned how to do my hair yet. No matter how hard I tried, I couldn't get it to flow like Farrah Fawcett's hair. Check out the Holly Hobby pajamas. I wore those until they didn't fit anymore, I loved them so much. They stuck to the sheets because they were made of flannel. At night, under the sheets, when I moved in the dark, I could see little static electricity sparks.
The presents we are holding are some toys that Marieva Richie gave us. Marieva was a friend of my mom and she used to always give us little presents. The curly pencil that I'm holding on the left was something that I actually still have. It was so cool that I didn't want to use it as a pencil. It's in my memento box with my old journals and letters from girlfriends.
I can tell so much from this picture. The cabinet on the right of the picture is the china closet. It is an antique from my grandma in Montana. I guess Dad didn't take that piece of furniture until after December 1980. It ended up in my dad's apartment. He eventually gave it to me. Right now, it's stored in the basement because the house we are living in is so small that I don't have a place to put it.
Also to the right is the bookcase with the National Geographics. My grandpa in Montana had a subscription to National Geographic for us kids. We got every one from 1978 to 1982. I got custody of them when mom sold the house in West Valley because no one else wanted them. I kept the cool ones (I have ALL the National Geographics on DVD, now, so I don't really need the paper) and gave the rest to The DI. It's funny to see them there. I don't think any of us really pulled them out and read them. They weren't organized usefully like an encyclopedia, so I couldn't really use them for school reports.
Last time I drove past the house in West Valley, it looks like the new owners have removed those shutters off those windows and removed the huge bushes in front of them. I remember that room always being so dark because of the bushes and the shutters. That didn't bother me, though, because we had privacy.
On the Christmas tree, those white balls were made of plastic and were covered with silk or angel hair. The cats loved them and one by one, we had to throw them away over the years because a cat had torn it apart. There were also some fabric ornaments that showed Victorian-Era Christmas people. Mom sprayed them with pine-scented air freshener because she missed the smell of a real Christmas tree. Christmas smells like Lysol to me.