I love this picture. This is the first Christmas Stocking that I ever had. It's not fancy velvet like the ones I have now. It was made of felt and Carol wrote our names on them with glue and glitter. Over the years, our names cracked and fell off the stockings. Eventually, I got married and moved out of the house. I have no idea where those stockings are now, probably at the Salt Lake County dump. Doesn't matter. I can remember them clear as day.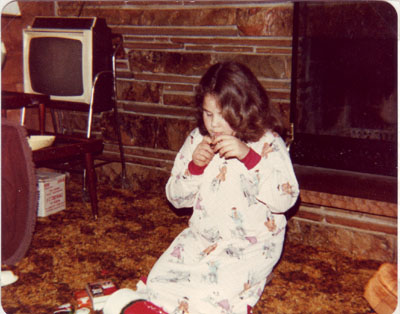 I am smelling the Jovan Musk perfume that came in my stocking. This was half-way through sixth grade. Soon I would be in junior high school and my mom would let me wear makeup. For now, though, all I could do was wear perfume. I thought it was really grown up. Jovan still makes that perfume. Whenever I smell it, I think of trying to prove I was grown up.
To the left of the photo is the old black and white TV on its TV stand. I will never forget the shock of pointing at an old black and white photo of my mom in her younger days. In the background was OUR TV. I had such a hard time believing that my mom could have owned that television for longer than I was alive. She said it was hers when she lived in an apartment before she met my dad. I couldn't believe it.
Also to the left is an end table that my dad eventually got in the divorce. Every once and a while I see one of these end tables at the trendy retro furniture stores in Gallery Row. They cost over a hundred dollars. My dad ended up damaging that table so much that it went in the garbage bin years before it could have fetched such a great price.
To the right of the photo is our fireplace. We pretty much only lit fires during Christmas time. Carol would always have those Duraflame logs that we could light so easily. Once she even let us light three at a time. It was a huge fire, but it didn't burn any hotter than a one-log fire. I remember sitting on the hearth and feeling the heat of the fire on my back. It was always so warm in the family room.