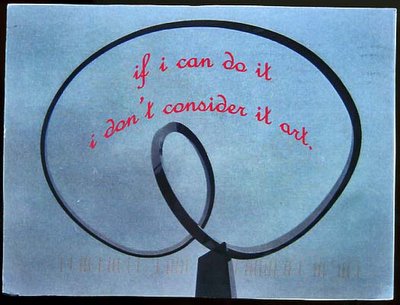 I saw this entry on PostSecret last Sunday and it screamed to me. I have the exact same problem. Rothko? Nope, I can do a fake Rothko. I got one hanging in my living room right now. Picasso? Yep, I can't even try to do that double face stuff. I don't like how it looks, but I consider it art. Pollock? Nope, I can dribble paint all over huge canvases. The only thing that stops me is the fear of making a mess.
Ironically, I enjoy the work of the "non-artists" far more than the "real artists." If I can figure out a way to do it, then I want to observe it more.
On another note, has anyone noticed the Modigliani imitations that are all over the place lately? At Prints Plus, Bed Bath & Beyond and even at my local art shop, there are Modigliani rip-offs all over the place. That's another form of art that I don't really care for, but since I can't recreate it, it must be art. When I pointed out the many places with the Modigliani-inspired pieces, Mike just shrugged. Does noone care about this? It kind of bugs me that a bunch of fake art ripping off someone's very distinctive style is floating around.
It's like the Thomas Kinkade rip-offs that are everywhere. I worked in a place that had a three Thomas Kinkade rip-offs hanging on the wall in front of my face. The were hung in an uneven row (the middle one was slightly higher than the other two). I did my best not to look at them, but sometimes I was so bored that it was either stare at them or the person at the desk across from me. I hated those three paintings, just for being crappy rip-offs of a bland artist. Sure, I can't do it, so he MUST be an artist, but that doesn't make me like his work any better.
---
PostSecret's beneficiary is the National Hopeline Network. It is a 24-hour hotline (1 (800) SUICIDE) for anyone who is thinking about suicide or knows someone who is considering it.