Salt Lake City is the home of Franklin Covey. They are the "7 Habits of Highly Effective People" people. The entire Franklin Covey philosophy has somehow become so intertwined with the LDS church here that sometimes I think that Franklin Planners are the LDS approved day planner. Their advertising campaign right now is "Resolutions Begin With The End In Mind."
Somehow, even though the Mormon population loves Franklin Covey, I love them too. They appeal to my sense of organization. I can organize with my Treo software, but it's just hard to say goodbye to the secure feeling of a paper organizer. I haven't had a Franklin refill for several years, but this year, I decided to use Franklin for my personal journal.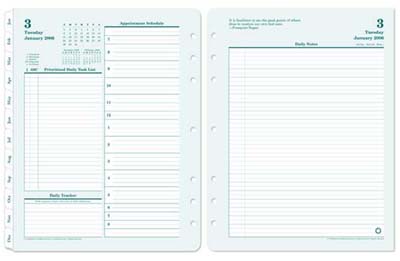 I write in a personal journal every morning before I even touch the computer. Starting this year, I have been writing in the notes section of the Franklin Planner pages. I chose the 8 1/2″ X 11″ size (Monarch), hoping that there would be enough room for me to write every day. So far, it has been alright. I'm not using the Appointment Schedule to plan my day. I still use my Treo for that. My To-Do list consists of "Write blog entries" so I don't really have a lot of tasks to check off lists. I am keeping track of how many blog entries I write every day in it. I'm also writing the exacts of my exercise because the program I use on the Treo to keep track of my food journal doesn't allow me to write the details.
It's amazing to me how excited I have been about this. I was eagerly awaiting the first of the year so I could start writing in my new journal. It doesn't really make sense to me. Last year, I wrote on pages that I had created for myself after years of trying out different journals. For the last four years, I have written on 5 1/2″ X 8 1/2″ paper. Now, I'm using the 8 1/2″ X 11″ form factor. I don't know why this excites me, but it does.
I could keep my journal entries on the computer or even on my Treo. I could write my blog totals on a piece of paper hung on my desk. I could write my exercise in the notes section on my exercise program. I have so many options, so I have no idea why this is appealing to me. I guess I'll try it for a year and see how I like it. If it works out, I'll keep it.