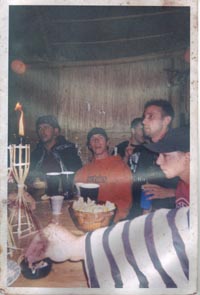 I found this picture on New Year's Day outside of Tres Hombres restaurant on Highland and 33rd. My first instinct was to pick it up and keep it. Mike didn't think that was a good idea.
"Don't take that. Whoever dropped it might come back looking for it."
I looked at my find, turning it over in my hand. I suddenly felt guilty.
"Fine, I'll put it back, but if it's still there when we get out of the restaurant, I'm taking it."
Mike imitated my voice,
"They better find it or it's going on the Internet!"
I nodded. It sure is.
---
This picture is strange to me because it's obviously a home party. They are drinking out of two different kinds of disposable cups. There are chips in a bowl. There is an ashtray in the forefront, so it can't be a restaurant in Utah. Smoking's not allowed.
Yet, the decoration of the area makes me think it's a restaurant. There are tiki torches, bamboo all along the back wall and a parrot hanging upside down from a perch. Where are these guys?
Is this a Halloween Party? The "first hombre" on the left is wearing a head scarf, a big gold earring and a cape. He seems to be the only one dressed up, but a Halloween Party might explain the decor. Plus, some of the disposable cups are black. It's really hard to find black cups unless it's Halloween or you go to extra trouble of going to a party store.
Most importantly, there are no women in this picture. When I was in high school, this is the kind of party I would find myself at, pretending to drink, so they wouldn't spike my Diet Coke. A party with all guys sitting around a table talking too loudly. I was at so many of those parties during my teen years that I couldn't even count them.
When I look at the full size picture, I can see many more details: I just realized that it's not potato chips in the bowl. They're lemon wedges. I see one lemon peel sitting on the table; the meat has been eaten out of the wedge. There is a case of Coca-Cola on the far left of the picture.
It's definitely a Halloween Party. One of the smaller disposable cups has pumpkins on it. Man, I feel sorry for the pirate on the left. He's the only dude that dressed up. I hope there was a prize. Nope, I'm wrong. He's not the only one dressed up. The arm in the forefront snubbing out a cigarette is dressed up as a prisoner with a striped shirt.
Based on the condition of the photo, it has been sitting outside for a while. It's not like someone dropped it on the way out of the restaurant just before we came along. The picture is faded, warped and dirty. How strange that I would find a Halloween picture. All things Halloween are drawn to me. I take them under my wing and give them a place to breathe.