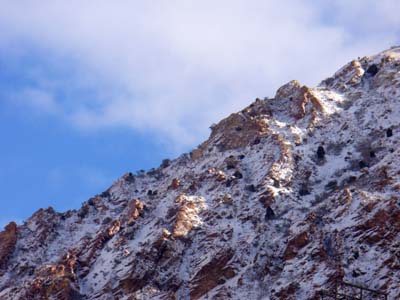 When we touched down on the island of Kauai, I was shocked by the red mountains. "It feels like home," I said to Mike. Mike took a deep breath of the watery air and replied, "Except more humidity."
I used to think that I could live on Kauai with those red mountains that are so much like mine at home, but now I know I couldn't. I wouldn't be able to see the shock of white snow on those red mountains and it would feel like home, stranded in an everlasting spring.
Right after I took this picture, I turned around and got back into the Beetle. I turned the heat on full, blasting my face with the dry warmth. Winter may be unpleasant, but it can be so beautiful.
Photo Note: This picture was taken on the way up Parley's Canyon. We were taking a drive to Park City, but the contrast of the red rock and white snow made me pull the car over at the side of I-80 and take a few pictures.