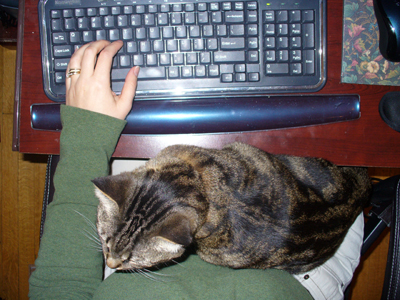 Maggie is on my lap. She is purring loudly and my arms are wrapped around her to reach the keyboard. Somehow, this has become a normal routine. She purrs on my lap and I type despite her. It's symbiotic in a way because her purring calms me down and my lap is a warm pillow. Anyone who could see me here typing would think that it's an uncomfortable situation, but we both seem to enjoy it.
I remember my mom's cat, Patches, used to sit by her typewriter when my mom was heavy into studying for school. I always thought that Patches was attention-starved, but now, I don't think that was true. She just wanted to be where my mom was just like Maggie is with me. I've never had a cat like this before and it makes me happy to enjoy her company.
Photo Note: It took 50 snaps to make this one good picture. I didn't know how hard it is to take a picture of myself until today.