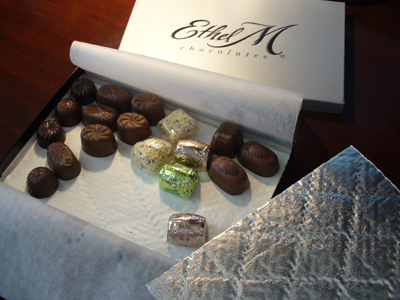 When you go to the Ethel M Chocolate Factory, they let you design your own box of chocolates. If you want to make a box of nothing but lemon cremes, they will make it for you. You can choose whatever you want to go in the box. It's like someone listened to all those kids who used to pick at the bottom of the chocolates with a fork and say to themselves, "Lemon Creme?! Why do they put those things in there?"
If you choose the flat and round mint chocolates, the lady who fills your box pauses with the mints in her plastic-gloved hand. "Are you going to eat these right away?" You will look at your partner trying to fathom whether it's okay to tell the stranger behind the counter that the two of you are planning to break into the box in the parking lot, despite the free handouts. The woman will clarify, "If you are going to keep this box for a week or so, these mints will make the entire box taste minty." The two of you sigh with relief. The chocolates will be long gone before a week rolls around.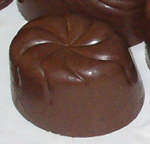 What the woman behind the counter didn't warn us about was the Wild Cherry Dessert Mousse. I don't care for cherry, so almost all of them are left in the box. After three weeks in our house, they have made the entire box taste like cherry. The scent of wild cherry blasts me when I open the box. We were quick to eat the mints because we were warned, but who knew that the wild cherry was the second most toxic?
On another note, can you believe that the box has lasted us three weeks?