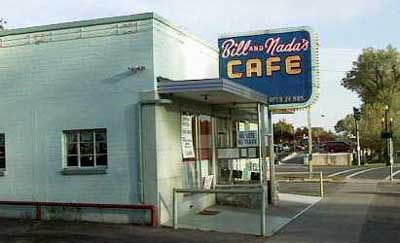 Bill and Nada's Cafe sat right next to Trolley Square. They were a 24 hour restaurant, so they earned a strange cult following. When I was a teenager in the Eighties, Bill and Nada's was the popular place to go after a drunken night at the local clubs. Everyone told me that I should go there, but when I asked why, all they could say was that it was open late and they served brains and eggs.
Brains and eggs… It wasn't really a glowing review of the food. It was more like a dare. I could never get them to clarify any further, so I never went there.
I never ate at Bill and Nada's Cafe. When I hear people lament the loss of Bill and Nada's Cafe, I consciously control my face so that I don't roll my eyes at their grief. I hold my tongue instead of saying, "It was just a restaurant, people, and from what I heard, the food wasn't that good."
No, when they start reminiscing about Bill and Nada's I calmly go to my happy place and let them ramble on and on about it. They are ALWAYS shocked that I never ate there. I was so into the punk scene as a teen that they assume that I had enjoyed Bill and Nada's as well. I smile at them and nod knowingly. I tell them, "It's a shame they closed down," even though I don't really care.
Somehow that place got into the collective unconscious of the Salt Lake City resident. It became more than 2000 square feet of cinder block and neon. I don't understand it because I never ate there, but I feel the same way about other establishments of my youth. I'm sure it had less to do with the food and more to do with the memories of what happened in that small diner. I just never experienced it, so I can't wax philisophical about it.
They put a parking lot on the piece of land
Where the supermarket used to stand.
Before that they put up a bowling alley
On the site that used to be the local palais.
That's where the big band used to come and play.
My sister went there on a Saturday.
The day they knocked down the palais
My sister stood and cried.
The day they knocked down the palais
Part of my childhood died, just died.
– The Kinks, Come Dancing, 1983