I should have taken a picture of it. My words are not nearly descriptive enough to fully illustrate the purple fondue.
Mike and I first made it months and months ago. We decided to make fondue at the last minute and the only wine we had was a tiny individual serving bottle of cabernet sauvignon. The fondue was purple. Not burgundy, or a healthy color of a dark wine, the fondue turned out grapety purple. It looked like Play-Doh, but it tasted delicious. The peppery undertones of the wine accented the cheese and garlic beautifully. Mike and I ate the whole thing happily despite the color.
We kind of forgot about the purple fondue for the next few months, but when Mike asked me what I wanted for Valentine's Day, I told him I wanted to stay home and make purple fondue. We used the leftover half of bottle of cabernet sauvignon from the Halloween party and it was perfect. It was so good, we decided to have Stacey and Dan over to feed them purple fondue.
"You weren't joking about the Play-Doh."
That was the only negative thing that was said because after they tasted it, we kept eating until it was gone. Carrots, cauliflower, apples and three types of bread all happily dipped into the purple goo. The house smelled like garlic, wine, onions and cheese. We talked and enjoyed the food.
I don't know why this hasn't caught on. I found one recipe (Red Wine Fondue Recipe) online that calls for a red wine, but the cabernet sauvignon is the best to use with cheese and there is nothing out there. I guess it's because the color of the fondue looks far too much like purple Play-Doh.
I should have taken a picture…
Update 04-14-08: Mike made Purple Fondue for my birthday this year and we finally took photos of it.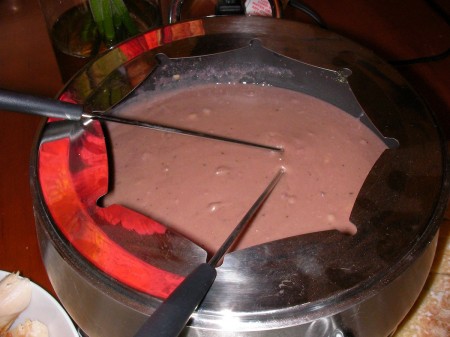 Update 02-02-12: I swear I wrote the recipe down, but when I searched for the words, Purple Fondue, all I got was this entry. Here is the recipe we usually use.
Ingredients
1 tablespoon butter
1 tablespoon chopped garlic
1/4 cup chopped onion
1 cup cabernet sauvignon (we use the Yellow Tail brand because that's what we used the first time and it worked so well)
1 tablespoon flour (we use tapioca flour because I'm gluten sensitive, but wheat and rice flour work as well)
1 cup Gruyere cheese, shredded
1 cup sharp Cheddar cheese, shredded
1 cup Emmentaler cheese, shredded
1/2 cup chopped green onions
Cracked pepper to taste
Directions
On medium heat, melt the butter in the electric fondue pot and add the garlic and onions. Brown the onions until they turn clear and leave lots of brown bits at the bottom of the fondue pot.
Increase the setting to high and add the wine to the pot. Stir it around until it sops up all the brown bits on the bottom of the fondue pot (lots of good flavor there). Bring the wine to a boil.
While the wine is coming to a boil, add the flour to the cheeses in a large ziploc bag and shake them around until all the shreds of cheese are coated with a fine dusting of flour.
Decrease the setting to medium and add the cheese to the boiling wine mixture in small handfuls, stirring with a fork. Keep adding the cheese until you get a thick consistency that bubbles like a Yellowstone paint pot.
It will be QUITE purple. Don't let that stop you. I promise. It doesn't taste like a grape Jolly Rancher.
Once the fondue is thick and bubbling, adjust the temperature so that it keeps warm, but doesn't burn. Add the green onions and cracked pepper on top and you're ready to dip in!
Fondue Dippers
Cut green apples
Bite-sized pieces of celery
Baby carrots
Stale bread chunks (gluten-free bread is ALWAYS stale, so that's easy for me)
Small broccoli bites
Cauliflower
Purple Fondue has become our traditional Valentine's Dinner. For the last six years, we've had Purple Fondue every year, even when we were in San Diego, visiting Matt and Christy Strebe. We all enjoyed Mike's lovely concoction. I can't wait for Valentine's Day this year!