Mike said that my head would be full of new ideas. My brain isn't quite FULL, but I have a bunch of new ideas and, even better, I have a list of books to read. I don't know why, but I took a picture of the people at some of the panels I attended.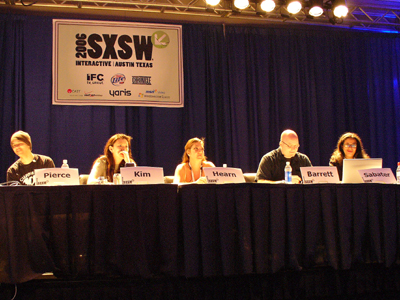 Better Blogging Brainstorming: (left to right: Tony Pierce, Min Kim, Helen Hearn, Cam Barett, and Liza Sabater)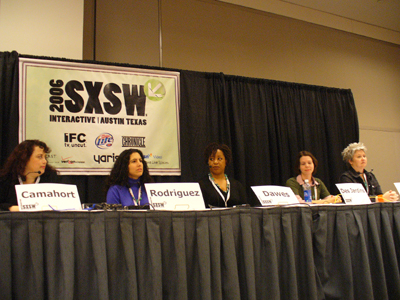 We Got Naked, Now What?: (left to right: Alisa Camahort, Evelyn Rodriguez, Lena Dawes, Jory Des Jardines and Elaine Liner)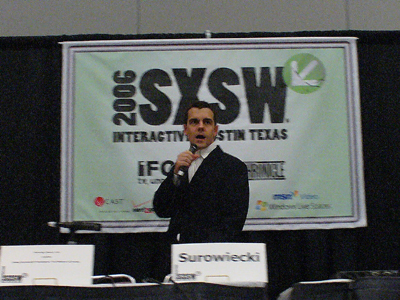 The Wisdom of Crowds: James Surowiecki
I also attended the keynote speech with Jason Fried and Jim Coudal and a presentation from Kathy Sierra (How To Create Passionate Users), but for some reason I didn't take pictures. I hadn't heard of any of these people before I came here today, so it's not like they are celebrities to me, but I did find everything they said interesting and worth listening to.
I remember being stuck at work last year while Mike was at SXSW and seeing pictures of the panels on other people's websites. I remember feeling incredibly left out and wondering what the people were saying behind those tables and name cards. Now, I've been to the panels and I know what they said. I took eight pages of notes and I write small. I probably should have brought my laptop and typed my notes. Maybe that's what I'll do tomorrow.
After the conference, we went to find some good local food, but first Mike needed his picture with the Podcast Pickle.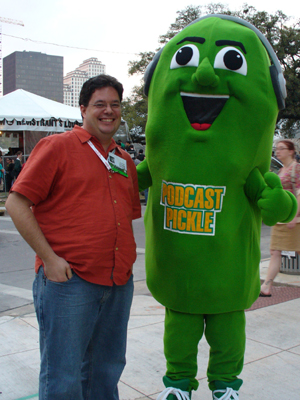 The Podcast Pickle seems to be a popular fellow:
Scott, another attendee of the last session, came with us in the search for food. We tried to go to Stubb's BBQ, but the place was packed and had a wait of over an hour, so we walked back toward the Hilton. On the way, we found a Korean restaurant and had an enjoyable conversation about sci-fi and streaming radio. I love to get a new recommendation for sci-fi authors and Scott gave me one: Elizabeth Moon. She has 26 titles at the Salt Lake County Library. That should keep me busy for a while. Thanks, Scott!