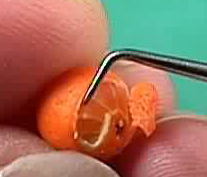 Awhile back, Boing Boing linked to a web site that showed you how to make tiny oranges with polymer clay.
They were so realistic looking, that I have been tempted to jump into another hobby. I tried to find the site again, but it is gone. Fortunately, the Way Back Machine has an archive of it.
There are a bunch of books that give you step-by-step instructions on how to make realistic looking food. I think people do this for doll houses, but it looks so interesting that I spent 45 minutes in the art store the other day just looking through the books.
I went home empty-handed. It looks fun and interesting, but I am full of hobbies. Playing with polymer clay looks like it would be entertaining, but the simple fact is I was fully entertained just by reading the books without touching any clay.