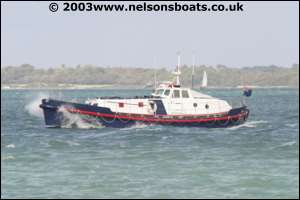 This boat is older than I am, so I can't claim she was named after me. I do hold a page of Google search entries before her, though, so I can't be jealous.
Apparently, she's for sale. This is what they say about her:
"Laura Moncur" the former Buckie Lifeboat, built 1961 and sold by the RNLI 1988. with 4berth cabin forward accessed through engine room or from maindeck. Galley / saloon aft. Central wheelhouse with radar, radio and navigation equipment. Twin Gardner 5LW diesels with all the usual lifeboat refinements. This boat has been excellently maintained by its owner and has had annual out of water re-fit, June 2005. including complete repaint.
Most of that description doesn't really mean much to me. I like a boat with a saloon. Of all the descriptions that they use to make her sound appealing, I'm most uneasy with this one…
She is ready to be enjoyed by the next discerning owner.