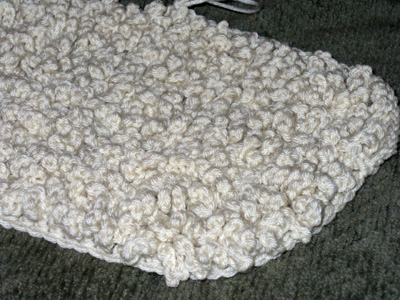 My current craft project right now is this bath mat. It's about half-way done right now and I'll probably be finished with it in a couple of days depending on how much writing I do and how much avoiding writing I do.
This is a pattern of my own making where I'm really just working in rounds, but I got the stitch from a book called Crochet Your Way. It's a book full of UGLY patterns, but there are so many different stitches, it's a great reference book. Think of it as a stitch bible with a bunch of ugly patterns distracting you.
This is the Twisted Loop Stitch: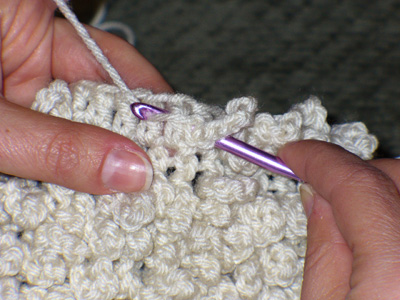 I work the row twice. First I go around the round doing a double crochet in each loop. After that, I go back over the double crocheted stitches with these loops (chain 7, single crochet around the post of the double crochet).
You end up with a thick and bouncy mat that is perfect for stepping out of the shower onto.
By the way, I wasn't kidding about the insanely ugly patterns in Crochet Your Way. Here's an example. I feel so sorry for the model in this picture. Fortunately, no Muppets were murdered to create this jacket. It's made from Faux Muppet Pelt using your mad crocheting skillz. As much as I've hated the patterns from this book, I have used the stitches in my own creations many times over. I have such a love-hate relationship with this book that I feel funny even writing about it. I don't want to seem like I'm recommending it, but I AM recommending it.
Strange…