It was a beautiful sunset except the cloud of black smoke coming from the west. We got into the car and drove toward the pillar of thick blackness, but nothing prepared us for what we saw.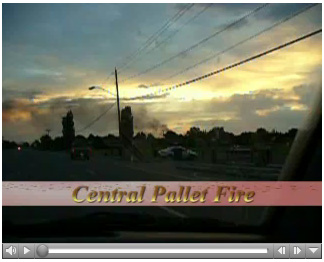 This three alarm fire at Central Pallet of Utah was originally called in as a grass fire, but it quickly spread and flames were leaping up forty feet into the air. Mike and I didn't dare get any closer and cautiously drove by on Bangerter Highway.
You can see the full story on KSL.com:
Update 07-05-06: The next day, Central Pallet of Utah was open for business. They were able to put out the fire before it reached the business offices, so they were able to start their recovery early. I wish them the best of luck. That fire was so scary that I am proud of their pluck for picking up the pieces so quickly.
---
Where: Central Pallet of Utah 810 S 4190 W Salt Lake City, UT 84104 Google Map