The August Geek Dinner was less of a networking opportunity this week because Phil had Pete Ashdown come speak with us about Net Neutrality. Pete is running for the U.S. Senate against Orrin Hatch and is particularly well versed in Internet issues because he is the founder of X-Mission, Utah's oldest ISP. Here is an edited video clip explaining his position on Net Neutrality.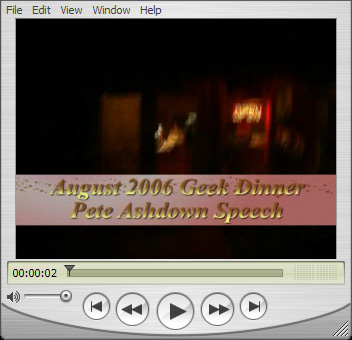 Music Credit: Atmospheric Royalty Free Music – Variation on Egmont
Pete is running his campaign on a very different platform than other candidates. His website has a collaboration wiki and he is writing a blog (or campaign journal). Any Utah Geek that doesn't vote for Pete has forgotten how important it is to have a senator in Washington who actually understands what the Internet is.
You can see the complete and unedited video (47 Minutes) here on Google Video:
Thanks, Phil, for bringing Pete to the Geek Dinner. It was a great meeting and I'm looking forward to September's Geek Dinner.
To find out more about the Utah Geek Dinners: DevUtah