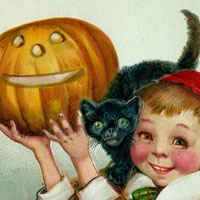 I have been waiting all year for this month! I have an entire month of Halloween fun for you! I have been taking pictures, writing entries and scouring the web for fun Halloween things for you…
Okay, that's a lie, they're really for me!
This picture is the "theme" for my Halloween party this year. The invitations, party favors and prizes will all have this image on them. Every year I choose a theme from various collections of old pictures from greeting cards. This one is a little on the cute side for me, but I like it.
Welcome to October!