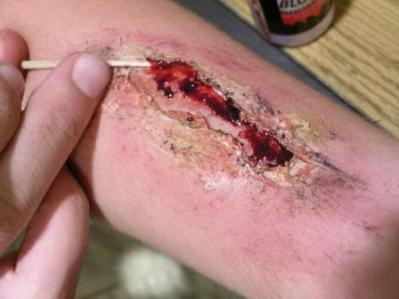 This method uses face paint and latex to make a disgusting and realistic wound.
Back in 2003, I was "The Homecoming Queen's Got A Gun" for Halloween. I have looked at the picture of my "wound" so many times that I can't believe I didn't post it here. Back then I didn't work with photos and video much, so I guess that's why. The wound was pretty realistic and I didn't use any latex or face paints.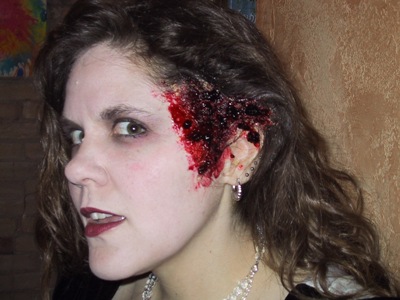 When I did this, I used the directions for the Super Scabs from this website:
I did a test run a couple of days before the Halloween party. It worked so well that doing it the day of the party was a piece of cake. Using a little corn meal and Jello, you can create a scarier wound and everything came off with a shower.
When you're planning your Halloween costume this year, don't stress out about the makeup. Do a test run and enjoy playing with the blood and gore. I sure did!