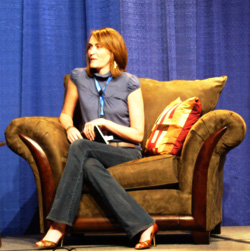 If I thought it was bad not getting the proper credit, just think how Heather Armstrong feels. The Salt Lake Tribune put her on their front page and didn't even bother giving her a link:
They were also a little lazy in their fact checking. Heather wasn't the first person to get fired because of her weblog. She was just the first person the media noticed. There were a few before her, and I'm sure Heather would have told them that, but the Tribune didn't bother to research it.
I'm glad she is finally beyond this lawsuit that has been weighing so heavily on her in silence. I wish her the best. If you are interested in her weblog you can find her here:
Suddenly, not getting a link from the local paper seems inconsequential. They did a story about her weblog on the FRONT PAGE and didn't even mention the URL for the weblog they were talking about.
Once again, Bad Form, Salt Lake Tribune. Bad Form…