The previous five entries were written on my Treo using a Flicker application that lets me automatically post to my weblog and upload pictures taken with my cameraphone. This is the first entry written on my computer for weeks. I feel like I should have a lot to say because I haven't written for so long, but I really just feel a little bit empty. I'm not sad. I'm not stressed. I'm not overworked. I'm just empty of words.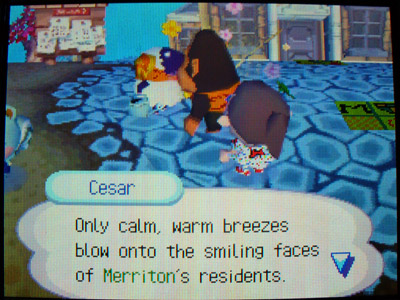 I have been playing Animal Crossing religiously since the beginning of October. Two full months of almost constant video game play. I played for nearly 15 hours on Saturday during the Flea Market. I had tons of things saved to sell to my little animal friends and they kept coming. I would fill the room and they would buy everything. Who knew they had that much money? I feel a little guilty about selling them so much junk, but they seemed so happy with it all. Some of it ended up in the recycle bin. I grabbed it, put it in my house and a different animal friend bought it again. I think Mike is going to take away my Nintendo if I ever play that long again.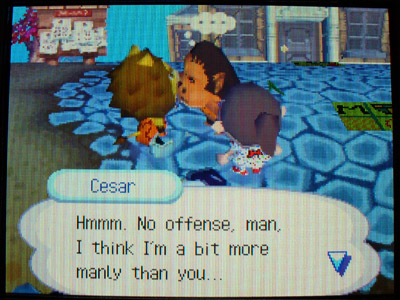 I have taken more pictures of my animal friends than I have of anything else for the last two months. We even went to Las Vegas and I took more pictures of Animal Crossing events than anything in Nevada. How can I help but take pictures? They are always doing something amusing. After all of these hours playing, I still get surprised. I love it when they fight. I love it when they are nice to each other. I especially love it when the grumpy males tease the normal females. It just makes me feel all warm inside.