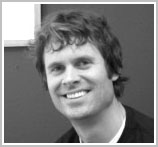 Tim Westergren of Pandora fame is visiting Salt Lake City and having a meetup at the Salt Lake City Main Library. It's a beautiful location with wireless access provided courtesy of X-Mission. I met Tim at SxSWi last year and he was very personable. He's a great speaker and an even better listener. Here are the specifics of the meetup:
Where: Salt Lake City Main Library, Auditorium
Address: 210 East 400 South, Salt Lake City UT 84111 (801) 524-8200 Google Map
When: Thursday, January 18th at 7:30 PM
If you have ever used Pandora and want to give him feedback about your likes and dislikes, now is the time! If you haven't, then try it! It's a free Internet radio station that is a great tool for finding new music that you will like. I reviewed it on The Gadgets Page here:
A special thank-you to Braidwood for introducing me to Pandora. I have enjoyed its continuous music and software improvements thanks to her!