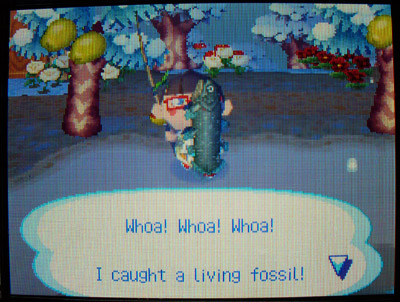 Ever since I started obsessively playing Animal Crossing back in October, I have been watching the weather on the little computer game televisions. I check it regularly so I can find out if it's going to rain or snow the next evening. All of this obsession with the weather is focused on one thing, catching a coelacanth.
Today, I was sick in bed with a sore throat, achy body and throbbing ears. Since it was snowing, I started fishing after Coelacanth Time (4pm-9am). Finally, after hours and hours of fishing in the snow and rain, I caught one. I could have sold it for 15,000 Bells (that's a lot of money), but I don't need money. I would have paid 1,000,000 Bells to catch one or buy one from someone else. I donated it to the museum. Blathers was happy to recieve it.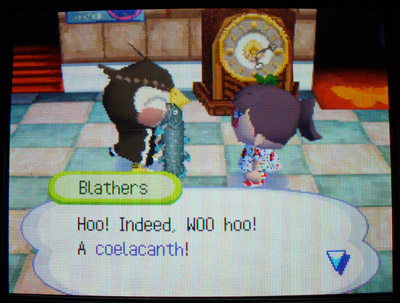 One of the things that I love about this game is its realism. The coelacanth is an incredibly difficult fish to catch in the game, as in real life. You can find out more about it here:
The coelacanth is so rare that it was considered extinct until it a specimen was found in 1938. Since then, many coelacanths have been caught, but it is a rare fish. I love how the game teaches me about fish I would have never cared about in my daily life in Utah. I'm 37 years old and I had never heard about the coelacanth until I found myself obsessively trying to catch one in a video game.