Everyone has been posting this:
09-f9-11-02-9d-74-e3-5b-d8-41-56-c5-63-56-88-c0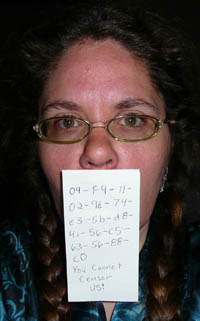 It looks like a secret code. I thought it might have something to do with Lost or Heroes or some other popular television show that I haven't invested the time in yet.
Nope.
It is the HD DVD DRM decryption code and the powers that be are trying to keep it hidden. So much so they are putting pressure on sites that are posting this code.
Sorry, folks. DVD DRM is wrong because it doesn't allow me to play the movie I just bought on my iPod, cell phone or any other device that isn't a DVD player. It only takes ONE person to crack your codes and the solution will spread.
You cannot silence us.
For more information:
---
Props to Schlomo for being the first to tell me about this: