"Umm… The sign said this motel has wireless… is there a code or something?"
I didn't see a wireless signal that looked like it might belong to Travelodge, but I thought I'd ask.
"Sure! Let me tell you the code. Do you have a piece of paper?" she happily responded.
I wrote down the code and tried it on the wireless signal called "max," but it didn't work. Then, Mike took the laptop out of the room and walked down the balcony toward the office.
"Got it!" he screamed.
He walked back to our room, "Lost it…"
We gathered up the computers and our room keys and went back to the office.
"We can't get the wireless signal in our room." I placed the keycards on the counter.
"Didn't the code work?" She was genuinely nice and helpful.
"Yeah, the code works. We can get it if we walk down the balcony a bit, but we just can't get it in our room."
"I don't mind if you work here."
What I wanted to say was, "That ain't gonna happen, missy! We gotta work and I ain't stayin' in another crappy place without wireless. I just spent a freakin' week in an overpriced hotel in Anaheim that said it had wireless and never once was I able to get online. Sure, I can use my cell phone, but I would rather check out than get online with my cell phone tonight! GRRR!"
All I did, however, was shake my head and say, "We have to work." It sounded totally rude, but that was all I could do without going medieval on her.
"Well, I have room 29… but…"
She hesitated, but I was all on it. "Mike, walk over to room 29 and see if you can get a signal there."
Before he could leave, she interceded, "…but it's a teddy bear room."
Mike's face lit up, "Alright! A teddy bear room!"
While he headed out to check the signal, she tried to reason with me, "It's not like there are any actual stuffed animals in the room, it's just…"
I knew what she was talking about. Jay and Ryanne had encountered a Travelodge Teddy Bear room in Reno during their move to San Francisco. I knew exactly what she was talking about.
"I don't care what the bedspreads look like as long as I can get online."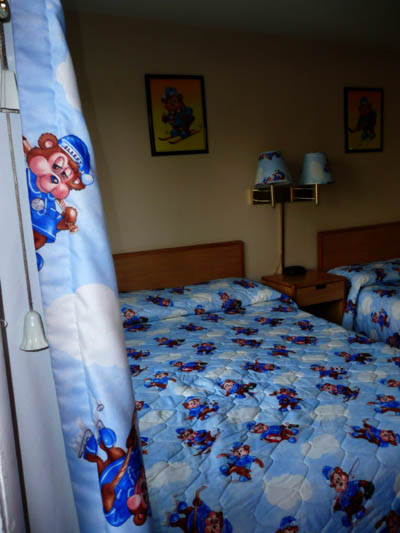 On our drive back home, we're asking for the Travelodge Teddy Bear Room.