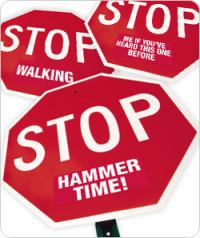 A few years back, a bunch of stickers that said "Bush" were stuck to the stop signs around Sugarhouse. I'm sure there were lots of variations of these stickers that graced the stop signs of more liberal areas, but Utah only saw the "Stop Bush" variation.
Here are the counter-revolution stickers:
I think these are funny and I would buy them, but I'm not nearly tall enough to reach a stop sign to stick them up. They are jokes without a punchline otherwise.
Part of me wants to buy them anyway and get a little ladder out to stick them on the signs in broad daylight. Wouldn't I look like a prim dowager?
Via: gadgetgirl: snicker