Apparently, 1980 was the peak year for me and Barbie. Plaid Stallions has the 1980 Mattel Catalog, showing some of my favorite toys:
I earned half the money for my Barbie Star Traveler. It was forty dollars at Gibson's Discount Center. My mom fronted the other half. My dad helped me put it together because it was REALLY complicated. There were a million stickers that had to be stuck correctly on the frame of the toy. I played with that thing long after it started falling apart.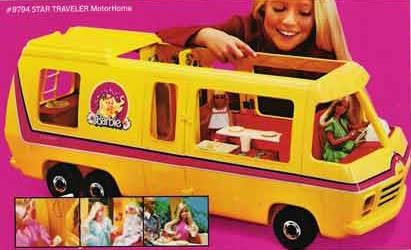 I ended up giving it to The DI just a few years ago. I hope another little girl had the luckiest day ever at the DI and is still playing with it today.
I also saved up the eight dollars to buy the Barbie Starvette. I felt so proud because I put the car together myself and even put on the stickers correctly.

She could carry one friend in the seat next to her and two friends on the back. The seat belts were so impossible to use that they were removed the first day I owned the car. I always worried about the friends sitting on the back when we were driving because I knew that it wasn't safe for them to do that.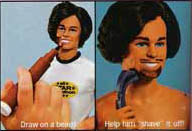 My sister, Stacey, had this Ken doll. He came with a marker to draw on a beard on Ken's face. Unfortunately, we didn't realize that we shouldn't draw on his face with just any marker. Ken ended up with a permanently blackened face within days.
We eventually shaved his hairy head. His hair wasn't nice like these pictures show it. It was a full-on afro mop-top mess. I convinced Stacey that he would look much better if we just cut off all his hair. He didn't.
Sorry, sister…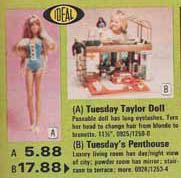 If you didn't see your Barbie here, Plaid Stallions has a bunch of other stuff:
Update 04-05-10:
Here is a better picture of my Barbie Star Traveler from the 1977 Sears Christmas Catalog: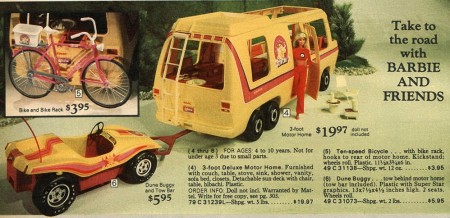 I still have the table, BBQ and plate from that set. The chair, pitcher and glass are long ago lost.
You can also see my Superstar Christie on that same page: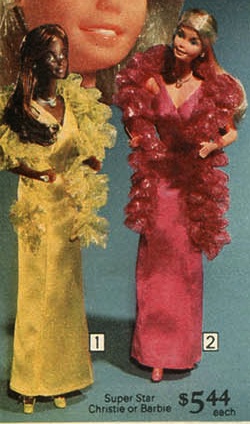 I also found Tuesday Taylor wearing the same outfit I still own.

She was a cool doll because she could have brown hair or blonde hair with a swivel top head. Now, though, her hair is matted and unbrushable. At least she still has her awesome Maude-like fashion sense.