As always, I tried to get some video of the Jane Goodall lecture I attended last week. It didn't take long for the usher to stop me from filming. Since Jane had talked about how amazing technology is and we could be streaming this lecture across the world to China, it seems odd that she wouldn't want more people to hear her plea, but I stopped filming. Here is the best few minutes of what I got.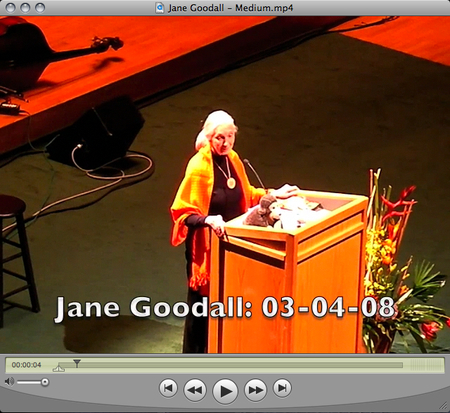 Download this video for your iPod
I have more video, but she didn't get to complete her next thought before the usher asked me to stop filming. It's always easier to ask forgiveness than permission, so I didn't mind the reprimand. I'm just glad that I got a minute or two of her amazing lecture to show the world.
I DO have a new quote to add to our Motivational Quotes Collection:
"I think the best evenings are when we have messages, things that make us think, but we can also laugh and enjoy each other's company."

Jane Goodall, Lecture in Salt Lake City, Utah, 03-04-08
I am so grateful I was able to attend this wonderful lecture and meet Jane Goodall in person!