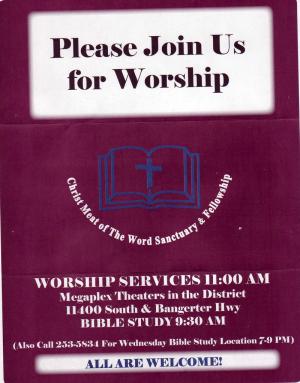 I received this in the mail on Saturday. At first, I couldn't tell if it was a joke or not. With a name like Christ Meat of The Word Sanctuary & Fellowship, it's hard to tell what's real and what's parody.
They are having "Worship Services" at the Megaplex. That just made me think that it must be some movie making fun of Christian fundamentalism and you can meet at 9:30 am for "Bible Study," which means that you can find other people who think the whole Christian thing has gotten silly.
Sadly, it looks like it might be a "real" church.
Can a megaplex theater actually provide sanctuary? I'm sure that you can find sanctuary of the mind in the humblest of places, but if Quasi Modo were to run into the megaplex screaming sanctuary, would he be spared?
Maybe it's just a "Word Sanctuary" and only words are safe within the megaplex walls.
I wonder what Christ Meat tastes like.
I would think that they meant Christ Meet, but they consistently spell it "Meat," so they must mean the flesh of Christ in a strangely cuisine-oriented phrasing.
Religious freedom is one of the foundations that the United States was built upon. I strongly believe in Christ Meat of The Word Sanctuary & Fellowship's right to form a religion and meet in the local movie theater every Sunday. I just wonder why they chose such a name that is neither catchy nor descriptive. It's like they need a marketing bishopric to ensure that they don't sound like a parody of themselves.