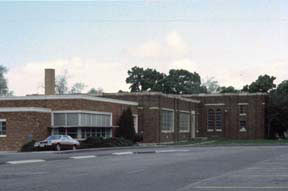 I am speaking at Valley High School today. Their teacher asked me to answer this question:
As the time grows near for me to leave home, what is the most important message or belief that you hope I will take with me and remember throughout my entire life?
---
The biggest thing that bugs me about motivational speeches is the idea, "Believe in yourself."
I think that's a load of baloney.
Every stupid movie you see nowadays keeps repeating the mantra, "Believe in yourself. Believe in yourself," over and over, but I'm here to tell you that it's wrong and it will steer you wrong more often that not.
I had a teacher when I was in ninth grade who taught us to "Question Everything." That is a much more livable philosophy in my mind. Question everything, including yourself, and keep questioning until you get the answer that works.
My husband and I run the oldest quotations site on the Internet. We have over one million unique visitors to our site every month. If you type the word "quote" into Google, we're number one. We started the site in 1994 when the Internet was young. We're actually OLDER than Google. We have an email from Jerry Yang himself saying that he was adding our site to his web directory called Yahoo!
Did we get where we are by "believing in ourselves?" Nope.
We started the Quotations Page because quotes were something that we liked. By the time 1998 rolled around, we were paying a TON of money for bandwidth to keep the site running. At that point, we had a choice: figure out how to make the site profitable or shut it down.
Neither one of us thought that we could ever make the Quotations Page profitable. We just kept asking the question, "How can we keep the site running without going broke?" The answers came from all over. We joined a few of the ad networks, dealt with the angry visitors who didn't think we should have advertising and kept it up and running.
Since both of us suffer from low self-esteem, we never in our wildest dreams believed that the Quotations Page would eventually make us enough money to live on. We never thought that it would be our one saving grace during the Dot Bomb. We never had that stubborn "believe in yourself" attitude that all the heroes in the movies had. The only thing that saved us is that we were willing to question everything and keep questioning until it worked for us.
I've seen too many people butt their heads against a wall because they "believe in themselves" instead of asking the right questions to become successful. You don't need confidence. You don't need high self-esteem. You don't need to believe in yourself. All you need to do is question EVERYTHING, and keep questioning until you get an answer that works.