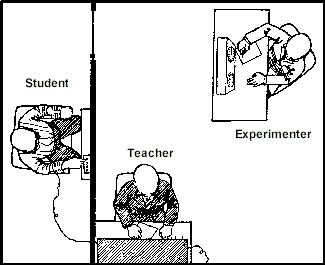 It seems unlikely that anyone has NOT heard about the psychological experiment in the sixties called the Milgram Experiment, but if you haven't, here's the Wikipedia entry:
If you were asked to shock another human being and could hear him screaming at each shock, would you continue to shock him? What if the shocks were increased to a dangerous level and the other person said he had a bad heart? What if you were ordered to? We like to think that we wouldn't do it, but in the experiments, 85% believed they gave shocks strong enough to kill.
I saw the footage of this experiment in a psychology show and I'll never forget the subject who kept shocking, even when the "learner" had stopped responding and was considered dead. But what about that 15% that refused? Here is a personal account from one of them:
Still, the results of the Milgram experiment demonstrates how rare and heroic is the "Courage to Refuse" (as one of their organizations is named). These are people who deserve to be honored.
It seems his distrust of authority was the one thing that saved his "learner" from suffering. What I attribute to paranoia could actually save someone's life. It's funny how fine the line between sanity and madness is.
Via: Mind Hacks: The man who defied Milgram's conformity experiment