I saw this ad and I immediately thought of fifth grade. That was the year Bonne Bell's Lipsmackers were THE most popular thing.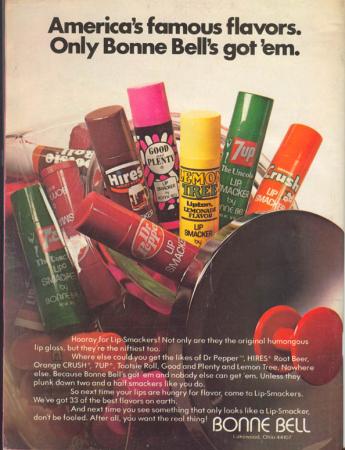 This advertisement doesn't do them justice because you can't see how freakishly large they were. They just look like a normal chapstick-sized lip gloss. But NO, they were at least three inches tall and an inch in diameter. They were large and the cool girls would have them sitting on their desk like a plastic column of Dr. Pepper scented popularity.
Dr. Pepper was the cool flavor, by the way. If you were unlucky and your mom bought you a 7-Up Lipsmacker instead, you might as well leave it at home. The Hires rootbeer flavor was a close second, but I never saw the Tootsie Roll or Good N Plenty flavors.
When my grandmother was starving me in Montana, I used to put on the Dr. Pepper Lipsmacker on my lips and pretend I was eating something sweet. I was tempted to eat it so many times. If you licked your lips, they tasted sweet.
I can almost smell it now…
Photo via: Stuck in the '70s — 1970s products