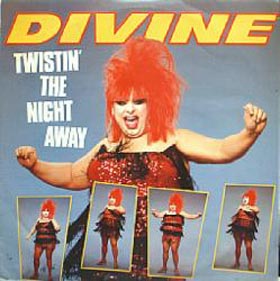 To this day, I am still haunted by this conversational interlude at the beginning of the song:
Dad: Where are you going?
Divine: Out.
Dad: Out where?
Divine: Out to have a good time.
Dad: Oh? Can I come?
Divine: Only if you're into it.
Dad: Into what?
Divine: Twistin'!
Whenever anyone asks me "Where are you going?" I ALWAYS answer with the word, "Out," in the hopes that whomever asked will respond with the rest of the interlude. Never, not once, no one has ever known what the heck I was quoting.
I saw this album cover from Divine's single "Twistin' the Night Away" on the list of Worst Album Covers here:
Alongside rancid beehives of the McKeithen's and the unseeing eyes of the Braillettes, I was angered and appalled that Divine's classic remake was numbered among them. Don't they know that EVERY time I hear another version of that song, I think to myself, "They're doing it wrong. DIVINE knew how to sing that song!"
Of course, Divine would be so happy to see his album cover listed among the Worst. He was the best at being the best at the worst. Here is a photo montage of Divine to the song:
Where have all the drag queens gone? I remember when Divine came to Utah to perform, celebrated and loved. UTAH! Sometimes I hate reminiscing about the eighties with a passion, but times like these, I miss them.