I love this watch. I am ALWAYS early to everything, so I thought this watch was so funny! If you notice, the face is shifted five minutes clockwise, so it looks like it's later than it really is. On this watch, it looks like it's 10:30, but it is really 9:25.
It NEVER fooled me.
This watch was also part of a collection. The other watches in the collection were called Always Late and Always Now. Always Late had the dial face rotated the other way, and Always Now was some non-sequitur that didn't match the other two.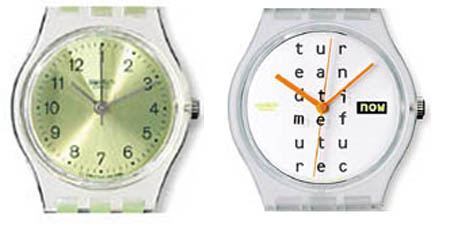 Personally, I think the watch dials should have been rotated in the opposite directions. Us people who are always early, bug normal people who show up on time. Our watches should make us a little late so that we end up showing up at the right time. The people who are constantly late need a watch like Always Early, so that it will fool them into showing up on time.