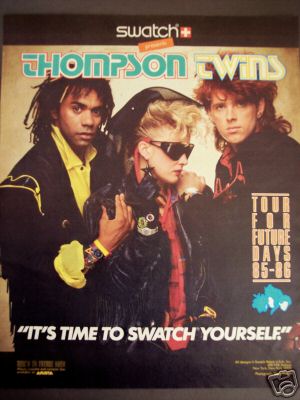 The Swatch Club forums asked us to share one of our Swatch Moments. Here is one of mine:
Clark Edvick took me to the concert early. We waited for the Thompson Twins to take the stage. There was a HUGE Swatch hanging from the ceiling of the Salt Palace, counting down the moments before they would perform.
When they sang "Lay Your Hands On Me" we all threw our hands at the stage in unison. I had never seen the video, but Clark showed me how to do it. I watched the Swatch tick the evening away.
It was 1986.
P.S. Clark, if you're out there, thank you for taking me to see the Thompson Twins. I hope your life is wonderfully full now and I'm wishing you the best that this world can give you.