I have been looking at my St. Germain Swatch for nearly twenty years now and I'm beginning to wonder what it means. What did Swatch mean naming it St. Germain? Sure, I know what the watch means to ME, but for the first time, I'm wondering what the designer of the watch was referring to.
There are a number of saints with the name Germain and many of them are French. Considering the words on the face are French, I thought there must be some connection there. But which saint would it be and what does any of them have to do with the images on the watch?
Of all the references available, I believe Saint Germaine Cousin to be the best fit for this watch. She is the patron saint of abandoned peasant girls. What better visual representation of that than the lonely woman in the coat and the forest?
Then there is the lengendary Count of St. Germain, who is rumored to be immortal (or maybe even a vampire). He is represented quite often in literature, including Neil Gaiman's The Sandman.
One of the representations of the Count of St. Germain is a French television program called "Le Collectionneur des cerveaux" or the "Collector of Minds." I found a YouTube clip of the movie that has been dubbed into German:
Chess playing robots and piano virtuosos aside, I don't really believe that the Collector of Minds was the basis for my St. Germain watch. For all I know, they were merely referring to the city, St. Germain in Quebec. They speak French there, don't they?
In fact, the closest representation of the watch from independent sources is this: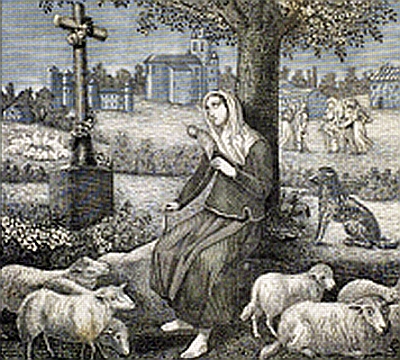 Here is St. Germaine of Cousin alone and cloaked under a sprawling, but leafless tree. Very similar to the St. Germain watch from Swatch. Am I close or have I been thinking about my watch for FAR too long?
Can anyone out there direct me to what Swatch was thinking about when they designed the St. Germain watch?
Update 11-10-08
I received this nice email from one of the readers and I think he's totally correct!
Email Dated 10-14-08:
hi Laura
many thanks for featuring that classic French-style Swatch on your blog. I remembered my own one morning and googled "tu es hasard", one of the few combinations I remembered (the other was "tu es vertige") and yours was the single result.
I also loved my watch, which I owned from about 1989-92 I think. It seemed so expensive, classy, mysterious and pretentious. The original strap broke, and then it stopped working entirely.
It reminded me, back then, of Wim Wenders' film Wings of Desire, and also of some academic theory I was reading at the time — and re-read today, which put me in mind of the watch. Jean Baudrillard wrote, in The Ecstasy of Communication, of the new cold universe, of "hazard, chance and vertigo". It seemed more than chance and coincidence that those were two, or three (translated) of the terms on my watch, and it made the object seem even more "adult" and intelligent.
However! I think you have mistranslated, or I have always misunderstood the watch. I believe the watch is saying, with the small hand, "you are chance", "you are vertigo", and the long hand ALWAYS says "I want you".
I don't believe "je te veux espoir" and the other combinations are any kind of grammatical French, and that they do not mean "I want you hopefully" and so on.
That is, I think the watch can only say 12 things: "You are chance, I want you", "You are hope, I want you", "You are dreams, I want you", and so forth.
But thanks again, because I really wanted to see that watch.
Email Dated 10-16-08:
hi Laura
Yes, I'd be very glad for you to include my thoughts about the watch., with my name if you like. The association with "Wings of Desire" is pretty tenuous as the watch evokes 1940s Paris more than 1980s Berlin (I agree with your correspondent that the name is meant to evoke the place, Paris St Germain, and probably a "Casablanca" feel), but I think it was the figure in the long coat, in black and white (or grey-green and white?) that reminded me of Wim Wenders' film.
This photo may make the visual connection clear.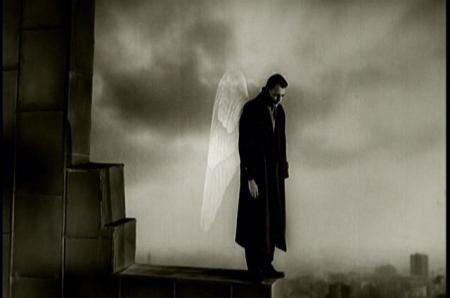 The parallel with the terms discussed by Baudrillard is also entirely coincidental I'm sure, but it added to my feeling that the watch was very adult, sophisticated and profound. In fact, I didn't mention that my first serious girlfriend bought me that watch, perhaps for my 21st birthday — which is probably why it would not be fitting to have it again now, because it was something of that specific time and point in my life. I remember feeling that the watch face and strap were like a kind of romantic lost world, which I could immerse myself in by looking at them.
I also enjoyed your discussion of the Mondrian/"Studio Line" style watch, which is so wonderfully 1980s! I remember that advertisement well, and I also bought the product (specifically, the mousse) because of the advert and the Mondrian design. I'm sure if I smelled it now, the distinctive fragrance would immediately recall that time.
Like many things from the 80s, I think it may be better in memory, but your site provided some great nostalgia.
Please feel free to post this mail as well on your site, as it gives a bit more context to my experience of the St Germain watch, and the associations it had for me at the time. It is good to know that the watch meant so much to someone else, as well.
best wishes
Will Booker
Update 08-25-13
Here is another example of France in the Thirties that reminds me of this style of art.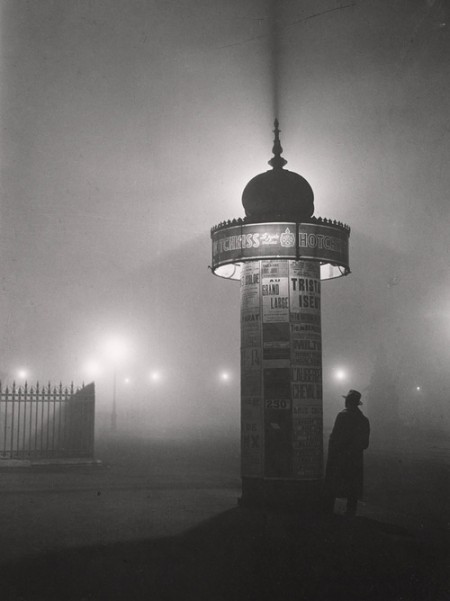 Via: WIL WHEATON dot TUMBLR, ckck: Colonne Morris dans le brouillard. Paris,…