I saw it on eBay. It was a damaged Swatch from the 1987 Spring Collection: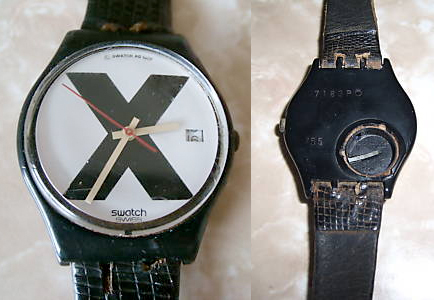 Despite the non-original band and the missing battery case, the bidding was out of control. When I first noticed it, it was $35 and within a day it had jumped up to $63. I looked it up on Squiggly.
They were selling a new one in the box for $357!! What?! Why is this watch worth so much more?! My Mackintosh that I had just sniped on eBay was only worth $97 NIB (new in box), so why was this one worth so much more?!
I found an explanation on the Squiggly forums:
The Swatch X-Rated or more commonly know as the swatch X watch is in such high demand for one reason, Straight Edge, a Subculture closely tied with punk/hardcore music, Straight Edge, is a label / lifestyle in which a person chooses to live life for themselves free of addiction,and societal pressure its very large subculture fueled by music, Straight Edge people tend to be proud of their decision, and this is where the x watch comes in. the symbol for Straight Edge is the X, and this watch has become a collectors item among the community, popularized by bands. there are even knock off versions of this watch.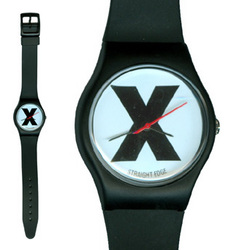 Drew was right. He included a link to the knock-off:
It all came flooding back to me in memories. Back in 1986, I had a friend named Doug who played in a band called Better Way. They were punk rock and played at the Spoken Word a couple of times. They were also WAY Mormon, so they didn't drink, smoke or do drugs. All their songs were about leading a clean life.
Their band died the same death that a lot of bands in Utah die: all their members went on LDS missions.
I don't know where Doug is today. I wonder if he ever picks up his guitar and remembers his old days. He was Straight Edge before Straight Edge was cool.
In the end, that Swatch on eBay sold for $92.05. I wasn't the one willing to pay so much for a broken watch, so I'll have to be happy with my memories.