This postcard from PostSecret made me cry.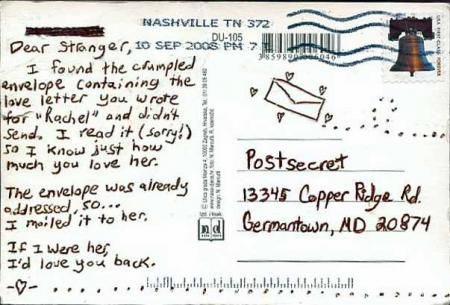 It reads:
Dear Stranger,

I found the crumpled envelope containing the love letter you wrote for "Rachel" and didn't send. I read it (sorry!) so I know just how much you love her.

The envelope was already addressed so… I mailed it to her.

If I were her, I'd love you back.
Long ago, I wrote a letter that I tore up and threw away in a public garbage can. Years later, I am so grateful that it never ended up in the addressee's hands. Sometimes we throw letters away from a good reason.
---
PostSecret's beneficiary is the National Hopeline Network. It is a 24-hour hotline (1 (800) SUICIDE) for anyone who is thinking about suicide or knows someone who is considering it.