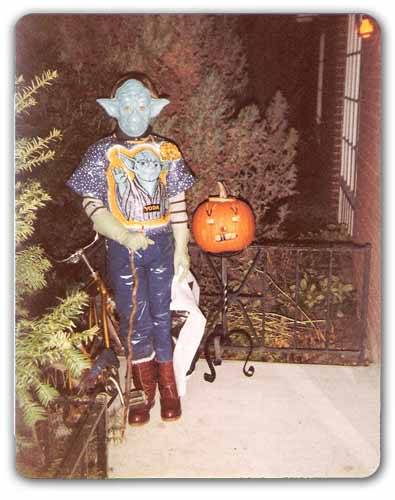 There was nothing like the costumes that they used to sell in the late 70s and early 80s. They were made of plastic, had flat masks and looked NOTHING like the character that they were portraying. Instead, the costume showed a picture of the character on your chest.
Enter Exhibit A: PlaidStallions' Yoda costume from 1980:
He explains:
I decided to go for realism with the costume by adding the greenest sweater I owned, some playtex gloves and my pajar boots, just like Yoda didn't wear. I don't why I was trying to add realism to a dark blue suit with Yoda's face on it, guess that comes with being nine.
Click on over to PlaidStallions to see a full-sized photo and other great stuff from the 70s and early 80s.