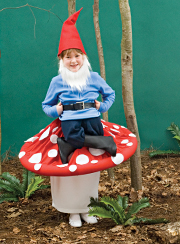 Check out this awesome garden gnome costume. You don't have to sew a thing!
Who knew a couple of Fun Noodles, some fabric and some toddler clothing could make such a rockin' costume. I don't really think it would work for adults, however, since the size difference is so big between adults and gnomes.
On the other hand, I can't really think of a kid that would really WANT to be a garden gnome for Halloween. It kind of reminds me of the kid who came to our house a few years ago as a table. I swear that kid's gonna be in therapy for a LONG time.