This postcard from PostSecret really made me feel a little better.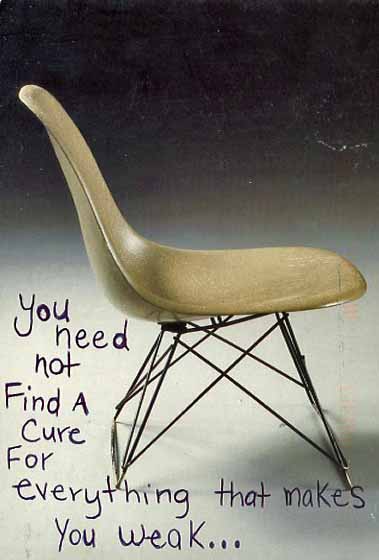 It reads:
You need not find a cure for everything that makes you weak…
For years, I tried to find a cure for my low self-esteem until I realized that I didn't need to feel good about myself in order to be a success. Sure, I'm weaker because I don't have a good self-esteem, but I'm able to survive without it. And that's what's important.
Update 02-08-10: According to Shannon in the comments, this line is from the song, Against the Grain by City and Colour.
---
PostSecret's beneficiary is the National Hopeline Network. It is a 24-hour hotline (1 (800) SUICIDE) for anyone who is thinking about suicide or knows someone who is considering it.