I saw this commercial for the Barbie Townhouse and it reminded me how much I wanted it.
I don't remember how much it cost, but I REALLY wanted it. My dad made me an awesome dollhouse instead with five rooms and a carport for my Barbie Starvette. There was even an outdoor patio.
I've looked through all my photos and all of Stacey's photos and we don't have one picture of that awesome dollhouse. Not one.
I tried to draw a picture of it, but I can't get the perspective right. My little drawing doesn't convey the awesome magnitude of how cool this house was.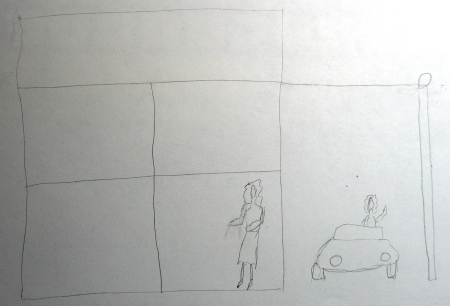 The long top room had a slanted roof because it was the attic. I always imagined Skipper staying up there and it represented my room in my mind. The two middle rooms were bedrooms. The room on the right had a door that opened up to the patio over the car. Each of the four rooms had a real window. The main floor had a kitchen and a front room. The front room also had a door that opened up to the front of the house. The roof had shingles. The front of the house had a porch. It was seriously AWESOME!!!
When I was done playing with the house, I gave it to Stacey. When she was done with it, she gave it to a Jehovah Witness family she knew that had a whole house full of girls. I'm sure that toy was just as loved by them as it was by us.
I wish I had a picture of it…